Giggles 4 Girls offers Mobile Spa Pamper Parties that come to you!
We are a Melbourne based Mobile Spa pamper party company especially for girls aged between 4 and 12 years.
Make your birthday girl feel special and unique with friends all while being pampered!
As the girls are being treated to chocolate facials and foot rubs, games & activities focused on the special birthday girl are in full swing! Such as, 'who knows the birthday girl best'
All activities and games are aimed at creating a special bond among the girls. Furthermore, there's even a fashion show for each girl to take her turn down the runway with her friends!
Above all, the girls get to embrace the moment, create lovely memories and, of course, feeling great about themselves, together!
 THE PARTY INCLUDES:
2 party hosts
2 hour party, 2 packages to choose from, additional girls can be added to each package.
Printable Spa themed birthday invitations emailed to you
Special seating for the birthday girl with a special foot spa
Special hair styling for birthday girl before her guests arrive
Foot spas for all the guests
Pink activity clipboards for all the guests
Special birthday girl hair-do, in addition to make up & nails
Pink fluffy bath robes & pink towels (duration of party)
Pretty pink matching chairs ! Yes, in addition, we even bring in the furniture
Pink lemonade & marshmallows served on silver platters
Mini manicures & pedicures
Cucumber eyes & chocolate edible facials
Special activities as they wait their turn for spa
Games to get to know the birthday girl better
Magazines to browse as they relax
Hand and foot massages
Music & dancing
Dress up, red carpet roll out & a FASHION SHOW!!
 Special Birthday Video (great to share with family & friends)
*BONUS includes
Little pretty journals for each girl to keep, hence, encouraging gratitude & appreciation
Fun activities to strengthen relationship between the girls, therefore, creating special friendship bonds 🙂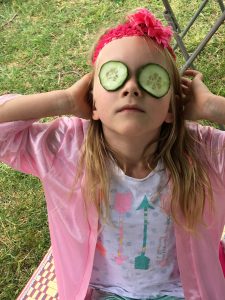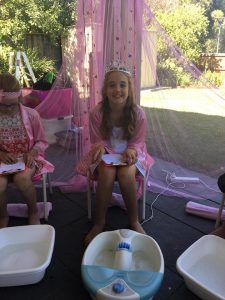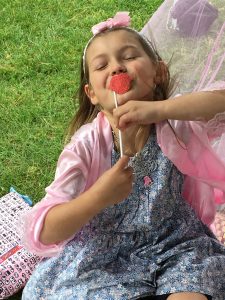 Package

Gold

Most popular

Platinum

No. of kids incl. in package
8 girls
12 girls
Include kids to package
$35
$35
Number of Staff
2
2
Duration of party
1.5 hour party
2 hour party
Party Furniture Hire included
√
√
Party Bags
X
√
Activities, 

Games & Prizes

√
√
Video Clip with Party Photos
X
√
DIY Gratitude Journals
X
√
Price AUD
$695
$895
Our spa party bags include:
For more information call Yolanda on 0432 477 021
*Travel fees may apply
What our mums are saying...