What if your daughter were surrounded by all of her special friends on her birthday and was told by each of them 'how special she was?"
Can you imagine how that would make her feel?  What if you were able to create a space where each of her friends could share cool stories about each other? Share instances where your daughter reached out to help her friend or made her friend smile when she was feeling down.  Or maybe a friend shared just how your daughters laughter made her happy when was down.
Did you know that it's magical moments like these that can build trust and togetherness and create long lasting friendships?
Giggles 4 Girls 'parties just for girls 'creates just this environment where your daughter and her special friends not only experience 'feeling great' from being pampered and experience 'looking great' from having their nails, hair & make up done BUT… they also experience a special bond with the group of friends that they spend much of their little lives with. 
We do this by including a segment of appreciation within the activities in our parties… girls are encouraged to share positive thoughts and memories about their friends and about themselves too.  each child is given a little journal called a "gratitude journal' where they are encouraged to note down things they are grateful, share whats special about themselves as well as share what special about our birthday girl and the friends around.  This segment of a giggles 4 girls 'Spa spectacular' party makes all the difference in strengthening the bonds of friendship among any group of friends.  Try it out when among friends! Yes its that easy to not only feel good within ourselves when we share a positive comment about  another but also creates a special bond that comes from sharing special moments and special girly giggles with each other.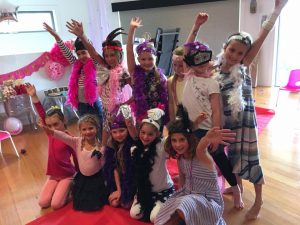 Book a Giggles 4 Girls 'spa spectacular' party today, tell us you were inspired to call us after reading this blog and receive 10% off your next party booking with us!!