A Pamper party is the way to go when you are trying to think of exciting ideas for your 7, 8 or 9 year old girl.
It is the most popular theme for this age group because girls at this stage of their lives are mostly identifying with their uniqueness.
They are not young enough to be princesses neither are they old enough to be teenagers.
These tween-agers are finding their feet in their world, they love feeling like princesses but at the same time want to experience the 'big girl' stuff!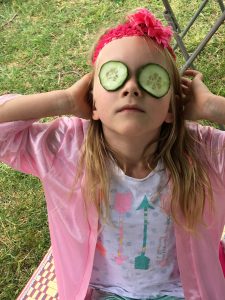 This is where the Giggles4Girls Spa Spectacular theme party makes for the perfect theme for your 7, 8, 9 or 10 year old. Which is ideally suited for a group of anywhere between 8 to 12 girls.  The girls are treated to pink lemonade and marshmallows while their feet are soaked in warm bubbly water sprinkled with pink heart shaped soap petals. 
Hand and foot massages are followed by getting their nails painted while games are played on little pink clip boards and little age appropriate girly magazines keep their fascination with growing up alive.
If you would like to find out more or if you would like enquire about a party click on the link below: